La Cappuccina Campo Buri
A Carmenere from Veneto, Italy.
The name "Campo Buri" means "Field of the Buri family", the former owners of this plot of land. Carm…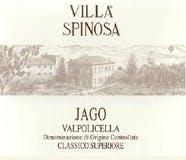 Villa Spinosa Jago Valpolicella
A Corvina from Valpolicella, Veneto, Italy.
Color: Intense ruby red. Bouquet: Intense notes of spices and forest berries. Coupling: With grilled…

La Cappuccina Madégo
A Cabernet Sauvignon from Veneto, Italy.
Colour: An intense ruby red with purple highlights. Nose: With hints of oak that are very well integ…