H. Billiot Fils Brut Reserve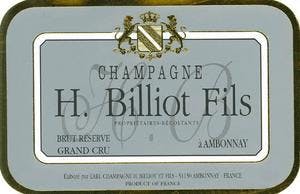 One of several instances in this portfolio where you can obtain 100% Grand Cru fizz at an entry-level price. Compare to Taittinger Comtes de Champagne, if you care to! This is 50% 2001 and 25% each of '99 and '00; about 80% Pinot Noir. This is just fantastic Champagne. Even for Billiot this cuvée has remarkable pretty fragrance. It's above all the length that impresses; there's an extension of the mid-palate that seems to clamp a death-grip on the soft palate, increasing intensity as it goes. Cherry, mirabelle, puffpastry, fraise de bois; essentially perfect Champagne, elegant and creamy and long and gracious and full of saffron and confiture.
Wine SpectatorRich and aromatic, displaying floral, citrus and whole grain aromas and flavors, a crisp texture and vivid structure. Not the harmony of some, but fine intensity and expression of [i]terroir[n]. Drink now.
International Wine CellarPale silver. Mineral-laced citrus and orchard fruit aromas display excellent energy and focus. Brisk, mouthwatering and pure, offering stony lemon and quince flavors and a slow-building baked apple quality. Very clean, nervy and light on its feet, with excellent persistence.