La Cappuccina San Brizio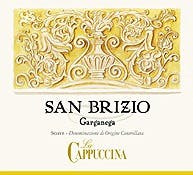 Colour: A deepish yellow with golden highlights. Nose: Richly perfumed, with notes of wild flowers and suggestions of ripe apples and greengages. Hints of honey and vanilla contribute even greater complexity. Flavour: Rich, concentrated and mouth-filling, yet invitingly fresh and persistent. This wine is excellent with fish and vegetable-based pasta or rice dishes, bean soups, fish, seafood, grilled meats or soft cheeses. It is delicious with fried eggs with truffles.
This is a vintage item, but we do not track the vintage in inventory. The information shown describes a recent vintage of this item, but may not describe the vintage you will receive. If you require a specific vintage of this item, please contact us to inquire about availability.